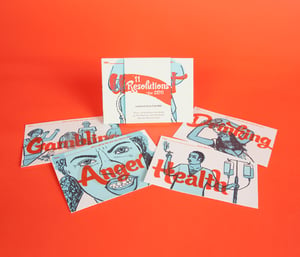 $

18.00
FOR 11% OFF (on single set orders only), USE THE COUPON CODE "ELEVEN" at Checkout
BUY 2 SETS FOR $27.50
or 3 SETS FOR $37.50!
(11% discount does not apply)
**Email ANDY [at] ANDYBABB [dot] COM and I will send you an Invoice**
Set of 11 illustrated silkscreen postcards playing on New Year's resolutions. Use the backs to comment on how well you think the recipient(s) will do on resolution goals. There are 2 takes on each resolution outcome: the Hi-Res option is a starry eyed outlook; the Lo-Res option is a cynical prediction.
View more images of the postcards.
Limited edition of 75. Size: 6" x 4.25"
5 inks on fronts (2 shades of green, red-orange, dark gray and clear gloss; 2 inks on backs (dark gray and teal)
Printed by Grand Palace on 140# Speckletone Madero Beach French Paper
Shipped via USPS Priority Mail. Allow 2–5 business days within the US, 6–10 business days international.