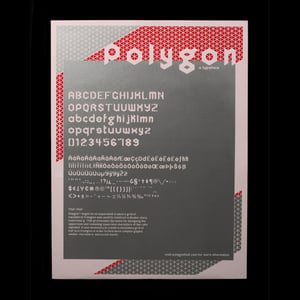 $

30.00
This poster showcases Polygon Regular, the original font of Andy Babb's Polygon type family. Polygon's design is based on a strict grid of equilateral triangles. All numerals, upper- and lowercase letters and additional characters are displayed, as well as a sample block of text.
Learn more about Polygon here.
15 posters from a limited run available; sized 19" x 25"
2 inks (fire engine red and metallic silver)
Printed by Grand Palace on 110# light pink French Paper
Posters shipped via USPS Priority Mail, rolled in 3" x 24" tubes. Please allow 2–5 business days for shipping within the US, 6–10 business days international.